The Heavy Blinkers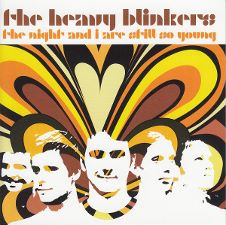 The Night and I Are Still So Young
Endearing - 2004


Michael Panontin

Spin magazine famously called the Heavy Blinkers "one of the greatest bands you've (probably) never heard". The Halifax quintet once counted the likes of Sondre Lerche, Van Dyke Parks and the High Llamas' Sean O'Hagan among its admirers, but today their CDs - alas, it was the early days of the millennium, so no vinyl was ever issued - languish, scuffed up and largely passed over, in the back corners of the record shops.

Like many a young music lover at the time, bandleader Jason MacIsaac was a recent convert to the church of Pet Sounds, eschewing indie rock for the pastoral pleasures of orchestral pop.

"In the late nineties, about seven months after having moved to Toronto with my Pixies-esque band, I decided that I wanted to make a brand new musical project with an emphasis on classical orchestration," he would later reveal on the This Is Pop Music blog. "When I moved back, I started writing and doing four-track demos in my apartment. It soon became apparent to me that to express the songs the way I thought they needed to be served, I would need a full band arrangement."

It was then that the classic Heavy Blinkers line-up of MacIsaac, keyboardist Andrew Watt, singer Ruth Minnikin, bassist Trevor Forbes and drummer Greg Fry began to take shape. "While looking for a recording studio in which to record these new songs, I happened upon Andrew Watt (co-founding Heavy Blinker) and his recording studio," he explained. "Months later, when I was accepted to play in a pop festival in Halifax, it was obvious that I needed a live band. What began as a solo recording project eventually grew into the Heavy Blinkers as a quintet."

After a tentative start with 1998's transitional Hooray for Everything, the five settled into an especially fertile period at the dawn of the millennium that would produce three of the era's finest soft-pop records: The Heavy Blinkers (2000), Better Weather (2001) and of course, what many consider to be their masterpiece, 2004's The Night and I Are Still So Young.

The latter particularly marked a quantum leap for the group. In much the same way that Sean O'Hagan learned to stop trying to actually be Brian Wilson and start arranging more as himself, probably sometime around 1999's Snowbug, MacIsaac's songs on The Night and I... show a marked maturity over those on the earlier discs. 'Mother Dear', for instance, drops some lovely choral vocals into its epic string/piano mix, while the catchy 'Try Telling That to My Baby', their stab at a radio-friendly single, one assumes, is an ambitious take on seventies pop with sweeping strings amid twinges of horn and piano.

Equally interestingly is the Heavy Blinkers' decidedly Canadian take on a sound that traditionally evokes the sunnier climes of the American west coast. "On a conscious and lyrical level, there are three things about Halifax that inform my writing," MacIsaac notes. 'The first is the bitter winter. The second is the Atlantic Ocean, and the third is the phenomenon of living somewhere with four distinct seasons."

The Night and I... found release in a number of countries, including the USA and Germany, as well as a rather swell edition in the U.K. with an alternative green-and-yellow cover. And it looked for many years that it might be the Heavy Blinkers' career-defining swan song, as the group seemed to have gone on indefinite hiatus. But they surprised everyone by re-emerging nearly a decade later with Health, which MacIsaac put together for the most part with different personnel (including brief appearances by both Lerche and O'Hagan!). And as if to placate that newer generation of vinyl dweebs, Label Obscura lovingly reissued The Night and I... on 180-gram vinyl, again with new artwork and limited to just 300 copies.
The Heavy Blinkers
Suggestions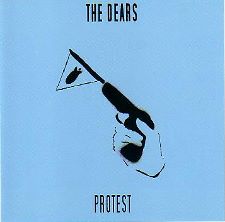 The Dears
Protest EP
Maple Music/Universal