Dorothy Collins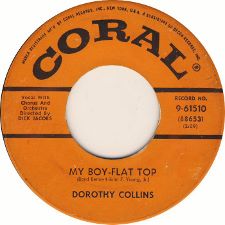 My Boy - Flat Top / In Love - 7"
Coral - 1955


Michael Panontin

As a precocious pre-teen, Windsor-born Marjorie Chandler could be heard singing on local radio stations on both sides of the Detroit River. But her real date with destiny would come to her a few years later when she was a mere fourteen years old. It was then, on a trip to Chicago with her parents in 1940, that she had the good fortune to meet Raymond Scott. The great bandleader and composer took an obvious shine to the young Canadian (soon thereafter known as Dorothy Collins) acting as her vocal coach and mentor and eventually taking her with him on tours across the U.S. with his popular Raymond Scott Orchestra.

Collins' apprenticeship was a gruelling one. Scott often worked the poor girl eight hours a day until he felt she was ready to sing with his band. "Raymond would have me sing something like 'The Man I Love'," Collins would later remember, "and at the same time he'd sit at the piano and play all sorts of dissonant things. I learned to keep on pitch that way, no matter what."

In 1950, Collins auditioned to be host of Lucky Strike's Your Hit Parade, a popular show for NBC that was about to make the switch from radio to television. Of course, TV was a brand new medium and who better to have beaming into people's homes than a telegenic performer like Collins who could sing and act out the latest pop hits. The talented star would become a household name throughout the decade, earning the nickname "The Sweetheart of Lucky Strike" and charting numerous records of her own on the Coral and Top Rank International labels.

Collins' most durable songs are those that allowed her to flex her formidable jazz skills. And there is perhaps no better example of that than her 1955 single 'My Boy - Flat Top', a swinging, finger-snappin' number that reached a healthy #16 on the Billboard charts that year. Equally impressive is the bouncy orchestration by the relatively unknown leader Dick Jacobs. A version of 'My Boy - Flat Top' taken from a Your Hit Parade episode and featuring Scott and his orchestra is available for streaming on YouTube, but his rendition falls flat next to Jacobs' excellent Coral recording.

Of course, at some point that shine in Scott's eye must have become a twinkle, as he and Collins were married in 1952. That union bore two children and lasted until their 1965 divorce. And though Collins would eventually fall right off the musical radar, especially as the staid fifties gave way to the more freewheeling sixties, she did manage to expand her career into other areas, notably with a fascinating children's LP, the didactic and curiously titled Experiment Songs, as well as frequent appearances on Allen Funt's Candid Camera and a Tony nomination for the Broadway show Follies in 1971. Collins passed away quietly in 1994 at the age of 67, interestingly just a few months after Scott, who was eighteen years her senior.
Dorothy Collins
Suggestions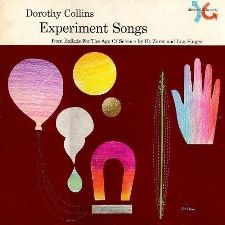 Dorothy Collins
Experiment Songs
Motivation