Shirley Matthews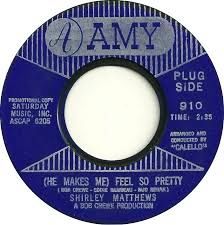 (He Makes Me) Feel So Pretty / Is He Really Mine? - 7"
Amy - 1964


Michael Panontin

After the success of her floor-stomping 'Big Town Boy' - a top-ten single in Canada around Christmas 1963 - Shirley Matthews certainly must have felt like a big town girl herself. The native of tiny Harrow, Ontario was working in a Bell Telephone office in Toronto and singing nights at Club Bluenote when she was discovered by the budding songwriter/producer (and future girl-watcher) Bob Crewe, who whisked her off to New York City to record a couple of singles for Atlantic Records.

But after the follow-up single (the equally soulful 'Private Property') failed to match the success of its predecessor, the ever-astute producer decided to tear a page out of the Phil Spector songbook. Matthews' third single, the Crewe-penned '(He Makes Me) Feel So Pretty', was a syrupy love song drenched in the sort of molasses-thick, wall-of-sound production that was making millions for Mr. Spector. Matthews' robust vocal was easily as good as anything from the Philles stable of talent - and this includes the revered Darlene Love and Ronnie Spector - but the fetching '...Feel So Pretty' unfortunately failed to chart at all.

A final single for Amy, 'Stop the Clock' b/w 'If Had to Do It All Over Again', also tanked, and a no doubt dejected Matthews would soon quit the music business altogether to eventually run a chain of successful racquetball and fitness clubs. Sadly, though 'Big Town Boy' can still be heard spinning on AM oldies stations, the pride of Harrow left this earth almost as obscurely as she entered it, passing away on January 8th, 2013 in Toronto.
Suggestions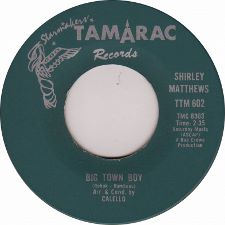 Shirley Matthews
Big Town Boy / (You Can) Count On That - 7"
Tamarac