The Pursuit of Happiness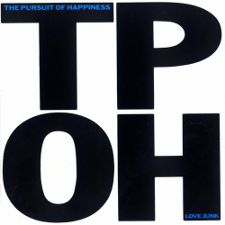 Love Junk
Chrysalis - 1988


Michael Panontin

The Pursuit of Happiness' 1986 debut single I'm an Adult Now tore up the staid mid-eighties Toronto scene, ripping into country-obsessed Queen West with its potent mix of guitar and existential angst. Formed in Toronto by recently arrived Albertan Moe Berg in 1985, TPOH swiftly sold out their initial 12" run of the song thanks to a deftly clever low-budget video of Berg belting out his grown-up confusion on downtown Toronto sidewalks to the indifferent stares of a pug-faced nine-year-old. A fortuitous major-label signing to Chrysalis came complete with Todd Rundgren as producer and engineer, leading to the hook-filled power pop of their first full-length, Love Junk.

A massive seller for the band, churning out 100,000 copies both north and south of the border, Love Junk straddled that fine line of classic seventies power pop and that meddlesome MTV-era dross of the eighties. A re-recorded 'I'm an Adult Now' still manages to enthrall, though that is despite the glossed-over guitars and punk-lite vocals. Initially banned on MTV for its drug references and pangs of Lolita lust ("I can't even look at young girls anymore / People will think I'm some kind of pervert"), the song was eventually added to rotation, furthering the band's exposure worldwide. (In Australia, where the song also did well, some folks down under put a different twist on the lyrics, singing along to a more self-deprecating "I'm on the dole now").

Still, Love Junk is a power pop lover's delight, with the fruitful Berg/Rundgren team-up delivering plenty of gems here. Berg's guitar chops check those simple/facile Kiss riffs ('Hard to Laugh') and the poppy chords of Cheap Trick ('Looking for Girls'). Mostly, though, Love Junk really soars when Berg's infectious melodies break out, as they do on the follow-up single and college-radio hit 'She's So Young' and on the perky 'Down on Him'.

The Pursuit of Happiness persisted well into the nineties, with acclaimed records and sold-out shows. While never officially disbanding, a 1997 solo disc by Berg (Summer's Over) and the re-emergence of bassist Johnny Sinclair and vocalist Leslie Stenwyk as Universal Honey essentially put TPOH on hold indefinitely.


Suggestions